Flick Ford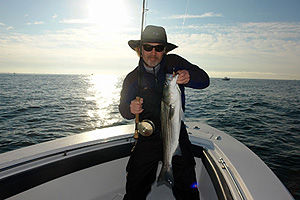 Born in 1954 in Atlanta, Flick Ford was raised in Westchester County, New York. He fell in love with fishing at age five. His father, an accomplished fly-fisherman and talented commercial artist/copywriter, instilled in him a deep respect for nature and nurtured his early creativity.
Throughout the 1960s and 1970s Flick fished the Adirondacks, New England, Long Island Sound, Chesapeake Bay, Virginia, and the woodland lakes of Quebec, while pursuing two other passions: music (as lead singer in a garage rock band) and art.
He took formal watercolor classes in the 1960s, figure drawing and graphic design classes between 1973 and 1976, and then studied art at Evergreen State College in Washington. Flick moved to New York City in 1978 and dove into the audio/visual scene of indie film, video, underground publishing, cartooning, illustration, and he reconnected with music. He performed in the East Village with several bands, and wrote and sang lead in The Crazy Pages for almost twenty years.
He left New York in 1993, heading for the Hudson Highlands where he quickly became obsessed with fishing the New York City watershed, particularly the Catskills. His passion and commitment for environmental sustainability was developed by witnessing the the effects of over twenty years of pollution, over-development and acid rain became painfully apparent as he branched out to many of the Adirondack and Vermont brook trout places where he had previously fished.
"We live in a time when our successes with riverine habitat rehabilitation must be tempered by our failures to protect our waters overall. I'm hoping that viewing the breath-taking beauty of these creatures as portrayed simply in the style I employ will strike a sympathetic chord with all who see them." - FF
For original artwork or prints visit his website at www.flickford.com